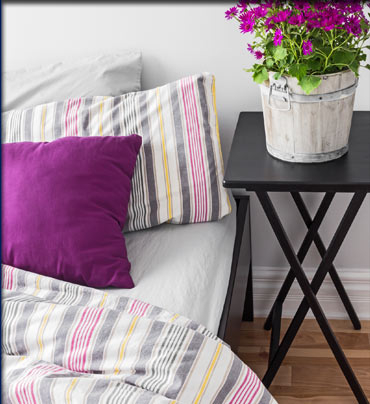 Thread Count Matters
One of the greatest feelings of ultimate relaxation is settling into your freshly made bed on soft, luxurious sheets. But how do you choose the right bed sheets for your needs? When you look at the label, it may feel as though you're lost in a sea of thread count number confusion, and you don't know what all of it means. But thread count isn't just a marketing gimmick—thread count and quality materials matter.
What is thread count?
The thread count is the number of threads woven together—vertically and horizontally—in one square inch. Anything over a 200-thread count is considered to be higher quality… but sheets with extremely high thread counts may not actually be softer. In fact, they could be a little misleading.
How are 800- and 1200-thread count sheets possible?
Honestly, it isn't possible to fit 1,200 threads into one square inch. But some manufacturers do the math a bit differently. One thread could consist of two to four fibers (plies) twisted together… but the manufacturer could decide that each ply counts as a thread, so the count could be multiplied astronomically. So, a higher thread count doesn't necessarily equal higher quality sheets. Check to see how many plies the threads have. If it is a single-ply… the thread count should be accurate. But if it is a double-ply or more, you may have an inflated thread count on the label. But, a double-ply fabric could be a bit thicker than a single-ply sheet. So, if you prefer your sheets thicker, you may want a higher ply sheet set.
Quality materials matter
High thread count is not the only factor to consider when choosing the right bed sheets; you must also look at the materials used. You should consider a strong, microfiber that is long-lasting, wrinkle resistant, breathable, stain-resistant, and easily washable. Not only do you want to be comfortable in your bed, you want your sheets to be durable and easily maintainable. So, when choosing your bed sheets, don't just look at the thread count… consider the materials as well.
Our program, and your bed sheets
Just like people sell candy, cookies, popcorn, and other such products to raise money for churches, schools, organizations, or others… Easy Bed Sheet Fundraiser's focus is on bed sheets for fundraising. We provide you with top-quality bed sheets at a low price, and allow you to sell them at a profit. Seeing as bed sheets are a necessity to most families (as opposed to goodies and such), we know that this type of fundraising can be substantially more profitable. With our help, you can raise funds for whatever you, or an organization you care about, needs. Check out EasyBedSheetFundraiser.com for all the details!